Overview on Vegan Cats
The most prominent issue regarding vegan cats is that of taurine. Taurine is an amino acid essential to all beings. Herbivores and omnivores can produce it within their bodies but obligate carnivores such as cats cannot. Taurine is found in vegetable matter but not in sufficiently high enough qualities to sustain an obligate carnivore such as the domestic cat.
However taurine has been produced synthetically since the 1930s (involving no use of animal products) for commercial use. BOTH mainstream and vegan cat food use this taurine. It is added to mainstream cat food because the meat used is of such poor quality and so heavily processed that that any real taurine is processed out.
Below are two recommended ways of feeding your cat(s) a vegan diet. Both ensure complete nutrition. Most sellers of vegan pet food recommend gradual progression from a meat to vegan diet, this usually involves gradually mixing in the vegan food with the regular until it becomes completely vegan.
VEGECAT
Vegecat is a vegan cat food supplement around since 1986 and just 6ml (just over one teaspoon) a day is enough to keep a 10lb (4.5kg) cat healthy according AAFCO (Association of American Feed Control Officials). Effectively this formula is used mixed with vegan foods suitable for cats such as oats, seitan, tofu. A comprehensive list of recipes comes with every pot of Vegecat. Available from VegePet.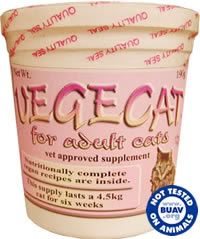 AMI CAT
Ami Cat is the most popular pre-packaged vegan cat food to date. It can be bought from VeggiePets in the UK and Europe and VeganCats in North America. It is a nutritionally complete food for cats and contains 1.5% taurine which is 0.5% more than legally required in dry cat food.
Overview on Vegan Dogs
Dogs are technically omnivorous and most do not require the amino acid taurine. Many dogs in Mexico and India are vegan simply due to the lack of meat available. Usually specialist food is not required and they do well on regular human vegan food. This video gives a general oversight covering cases where some dogs may require taurine.
Interesting Blogs
There's a Vegan Dog Nutrition group on Farcebook :-)